"Celebrity" Donkey Races
SUMMER
Memorial Day through Labor Day
Wholesome, side-splitting, family fun racing action!!
Our "Celebrity" Donkey Races consists of 5 action-packed elimination heats followed by one Championship Heat. Spectators will laugh non-stop while being entertained by "Donkey Jockeys" made up of their family, friends and community members!
We play Memorial Day through Labor Day. Great for fairs, festivals, celebrations, private parties! We work on a flat fee to fit your needs.
Call TODAY for FAST & EASY Booking! 1-888-8DONKEY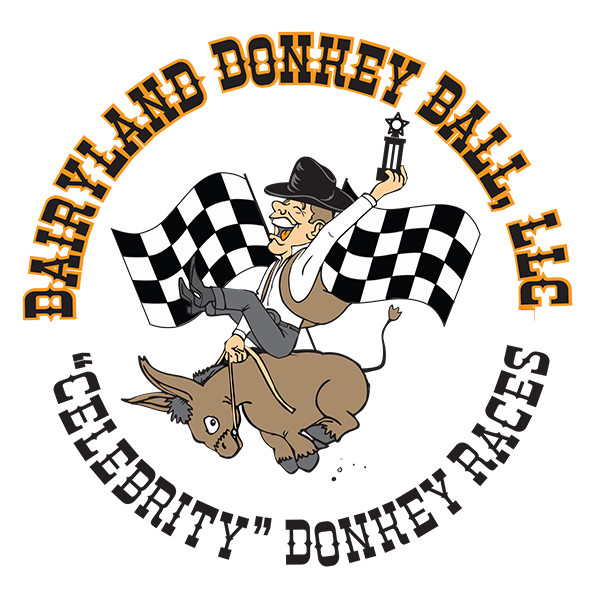 WE FURNISH FREE to YOU:
•

Promotional Materials




• Headgear for Player Protection


• Referee, Rider Numbers, Trophies, and Participation Ribbons
• Sound System
• Clean, lntelligent and Helpful Unit Managers
• Self-Contained Units – No Overnight Barn Needed
• ABSOLUTELY NO AFTER SMELL!!
• Clean-up after our show is just like clean-up after a regular event!
OUR DONKEYS ABSOLUTELY WILL NOT DAMAGE YOUR RACING AREA!
YOU FURNISH:
Suitable racing area (sand or grass preferred) or arena, grandstands, lights if necessary, master of ceremonies, 110 outlet for our sound system, racers, rider sign-up crew (usually one or two people), and someone to present the trophies at the end of the event.
Your only cash outlay is a $125 registration fee which covers two insurance policies in force for your event.
SPONSORSHIP IDEAS:
How you can easily raise money at your show if you choose!

Inning Sponsorships: $250-$750/heat

Team Sponsorships: $50-$100/team

Racer Entry Fee: $10-$50/racer

Ticket Sales, Concessions, etc…
We do our best to accommodate your requested dates!
Contact us to reserve your Fundraising date TODAY!