Donkey Basketball
WINTER (Jan – May)
FALL (Oct – Dec)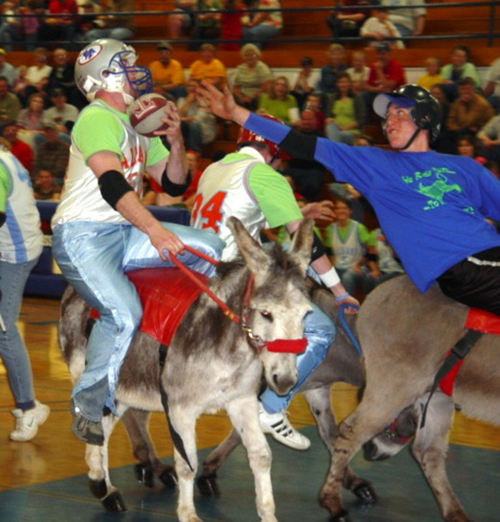 Shows are 1-1/2 hours of wholesome, side-splitting, family fun tournament action!!
How Our Very Popular Donkey Basketball FUNDRAI$ING Program Works:
You receive 40% of all Ticket Sales or 50% when Ticket Sales Total over $3,000!*
NO GUARANTEE TO US - NO RISK TO YOU! *You must charge at least the minimum ticket prices and have have a minimum gymnasium seating capacity of 450 or contact us to make other arrangements for seating capacity under 450.
Our Donkeys wear a non-marking, non-scuffing rubber shoe that cannot damage your wood or synthetic gym floor in any way. We guarantee it - right in our contract!
Call TODAY for FAST & EASY Booking! 1-888-8DONKEY
MINIMUM ADMISSION PRICES:
ALL TICKETS $7.00 in Advance / $10.00 at the Door / Preschool Free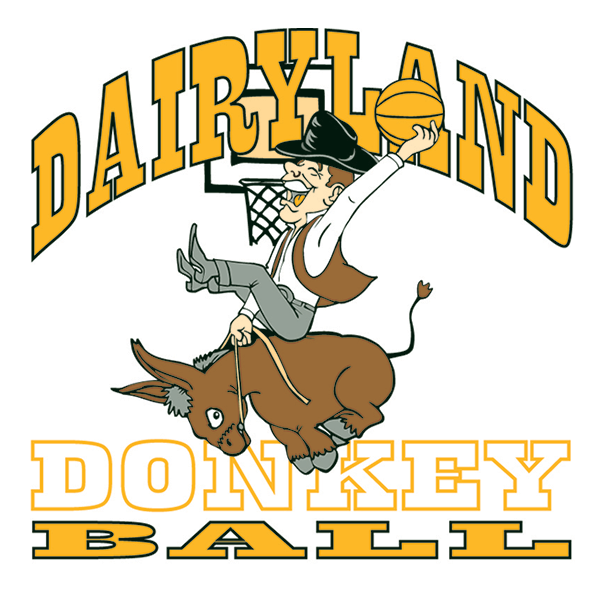 WE FURNISH FREE to YOU:
• Eye-Catching Posters
• Easy-to-Sell Tickets


• Useful Media Materials
All above sent USPS Priority Mail
• Headgear for Player Protection
• Referee and Game Ball
• Clean, lntelligent and Helpful Unit Managers
• Half-Time Donkey Rides or Games Available
• Self-Contained Units - No Overnight Barn Needed
• ABSOLUTELY NO AFTER SMELL!! Clean-up after our show is just like clean-up after a regular basketball game!
YOU FURNISH:
Gym, players, ticket sellers and distribute advertising we send you.
Your only cash outlay is a $125 registration fee which covers two insurance policies in force for your event.
Ticket Prices: $7/advance and $10/door." (Subject to change)
How to Book a Date with Us:
Choose a few dates during our seasons (dates listed below) that your gymnasium is available, weeknights work just as well as weekends.
Give us a call or send an e-mail, please remember to include your city and state in your request! 
We do our best to accommodate your requested dates!
Contact us to reserve your Fundraising date TODAY!